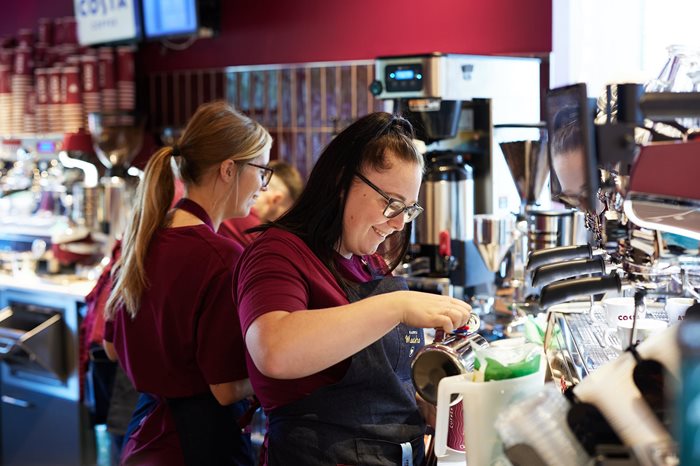 Costa Coffee voted 'The Nation's Favourite' for 13th consecutive year
Costa Coffee has been voted the UK's favourite coffee shop for the 13th consecutive year, according to a survey of more than 5,000 UK consumers.
Costa Coffee has been voted as the UK public's favourite coffee shop for a 13th consecutive year.
In a World Coffee Portal survey of more than 5,000 UK consumers, 51% cited Costa Coffee as their favourite branded coffee shop chain.
"I'm delighted to announce Costa Coffee as The Nation's Favourite coffee shop. Costa is a home-grown brand with a strong Italian heritage and has become a true mainstay of the British coffee landscape in a nation that is continuing to embrace coffee culture. Congratulations again to Costa Coffee on their recognition by the Great British public," said Jeffrey Young, CEO & Founder, Allegra Group.
Founded in London in 1971, Costa Coffee is the largest coffee chain in the UK with approximately 2,700 stores. The Bedfordshire-based chain also manages a 12,700-strong coffee machine network across the country.
Costa Coffee also operates approximately 1,200 outlets and 1,600 coffee machines across more than 40 international markets.
"The number 13 may be unlucky for some, but we are thrilled to have been voted the Nation's Favourite coffee shop for the thirteenth consecutive year. Over the last twelve months we have continued to invest in our UK business, including our store propositions, installing the first Costa Express's Hot and Iced Drinks self-serve machines as well as launching innovative new food and drink menus," added Nick Orrin, Interim UK&I Managing Director, Costa Coffee.
World Coffee Portal research forecasts the 9,885-strong UK branded coffee shop market will exceed 11,600 outlets by January 2028.
Posted in :