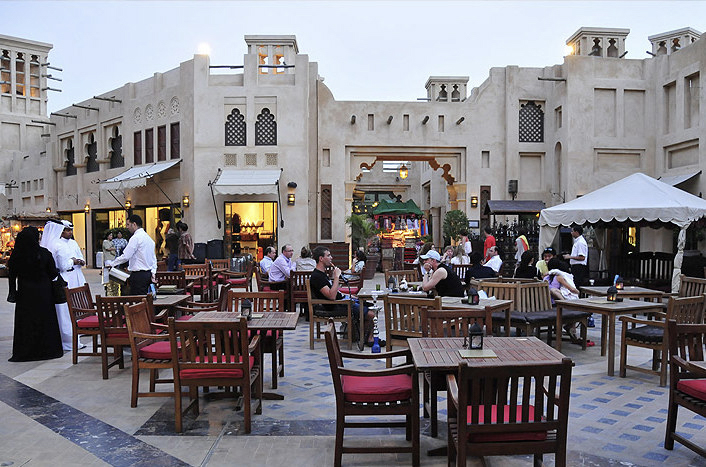 Middle East Coffee Shop Markets in Focus
The Middle East has become a global hotspot for coffee culture and commerce, with international coffee chains continuing to target significant growth across the region.
Meanwhile up-and-coming domestic operators are innovating local coffee traditions for a new generation of sophisticated coffee consumers. 5THWAVE examines the key market dynamics across five of the region's largest markets – the UAE, Israel, Kuwait, Egypt and Qatar.
Branded cafés continue to gain significant traction across the Middle East.
World Coffee Portal's Project Café Middle East report shows the region's total branded coffee shop market grew 10.5% over the last 12 months to reach 8,874 outlets, and has become a key geography for both major international coffee chains and a new crop of domestic operators raising the bar for quality and service.
Twelve out of 20 Middle East and North Africa markets featured in the report added outlets over the past 12 months, with Morocco (20.8%), Saudi Arabia (18.5%) and Iraq (16.7%) the fastest growing.
Convenience has grown to prominence, with app-enabled pick-up and delivery catering to a new generation of tech-savvy and affluent coffee consumers.
Drive-thru is also gathering pace, with 30% of Middle East industry leaders surveyed identifying the format as a key consumer trend.
However, Middle East operators have not been immune to rising inflation and supply chain challenges arising from Covid-19 and the war in Ukraine – 76% of industry leaders surveyed believe consumers are more price conscious than two years ago.
A GATEWAY TO THE MIDDLE EAST FOR INTERNATIONAL COFFEE BRANDS
The UAE is a global travel hub and one of the Middle East's leading tourist destinations. With a population of 9.9 million, 80% of whom are expats, the nation has one of the most developed coffee shop markets in the region, with the long-established presence of international coffee chains.
US brand Dunkin' entered the UAE in 1997 with a store in Dubai, with an influx of western chains following suit in the 1990s and early 2000s.
Dubai is the UAE's coffee innovation centrepoint, home to most branded chains as well as the Middle East's largest specialty coffee roaster, Coffee Planet.
The city is also home to the Dubai Multi Commodities Centre, a 'global hub for specialty coffee', which aspires to place the UAE as the region's foremost coffee trading location.
The total Emirati branded coffee shop market grew 3.9% over the last 12 months to reach 1,394 outlets.
The UAE is the second largest market across the Middle East, albeit significantly behind Saudi Arabia's (p20) 3,556 stores.
International coffee chains, led by Starbucks with 251 stores, represent more than 70% of the market and have laid the ground for a thriving market of boutique operators.
Japan's % Arabica currently operates 13 stores in the UAE, while Germany's The Barn Coffee Roasters opened its first international store in Dubai in October 2021 and EL&N launched in the city at the start of 2022.
Similarly, domestic chains Slash Coffee, Shot Specialty Café and Joud Coffee emphasise increasing appreciation for specialty coffee.
Underlining the positive synergies between the international and domestic coffee shops, 62% of consumers surveyed by World Coffee Portal believe that western chains have positively influenced UAE coffee culture.
However, industry leaders caution that the market has become increasingly crowded and competitive and some are concerned that this may soon lead to saturation.
The UAE market is projected to expand by just 3.9% over the next five years, one of the lowest rates for advanced markets in the region.
Nevertheless, hospitality brands that can differentiate themselves still stand to make gains in the UAE.
Demonstrating the growth potential for new arrivals, Danish coffee and juice chain Joe & The Juice debuted in the UAE in September 2022, bringing its distinctive healthfocused food and beverage menu to the Middle East.
French-Japanese inspired Café Kitsuné is similarly responding to strong consumer demand for sophisticated, boutique specialty café concepts and will launch in the UAE at the start of 2023.
A MELTING POT OF INTERNATIONAL COFFEE CULTURE
Kuwait's strong oil and financial sectors mean that expats comprise nearly 70% of the country's 4.3 million inhabitants.
This dynamic attracted international coffee chains from the late-1990s onwards, meaning Kuwait's small branded café market is one of the Middle East's most developed, growing 11.8% in the last 12 months to reach 655 outlets.
Starbucks made its debut in 1999 via licensee Alshaya Group and is now the market leader with 200 outlets and a 31% share of the total branded coffee shop market.
The Seattle-based coffee chain continues to grow in Kuwait, opening a net 32 stores over the last 12 months.
Costa Coffee first entered Kuwait in 1998 and is the second largest chain by outlets at 100.
Alghanim Industries acquired franchise rights to the brand in 2013. The third largest operator is Caribou Coffee which has 69 Kuwaiti stores in partnership with Al-Sayer Franchising Company.
In September 2022, Canada's Tim Hortons opened its first five outlets in Kuwait, while UK-based Pret A Manger launched its first outlet in the country the following month.
High consumer demand is simultaneously creating opportunities for boutique brands to differentiate in an increasingly competitive market.
UK-based EL&N opened its second Kuwait store last year while Japanese boutique coffee group % Arabica opened three new outlets to reach 12 locations.
Domestic group CAF Café was the only branded coffee shop chain, other than Starbucks, to achieve double-digit outlet growth last year, increasing its footprint by 13 to reach 26 stores.
Just five of the 32 branded coffeefocused chains in the country are domestic brands, but all are specialty operators, highlighting the strong local demand for premium coffee experiences.
Their presence is complemented by influential Kuwaiti independents such as Blank Sphere, Grind Coffee Co. and 50Degrees Espresso House.
World Coffee Portal forecasts the total Kuwaiti branded coffee shop market will exceed 800 outlets by 2027, representing store growth of 4%.
VALUE-FOCUSED CAFÉS CALL THE SHOTS
Despite a 67% fall in tourism-related income in 2020, Egypt's branded coffee shop market achieved 8.1% and 6.5% outlet growth in 2020 and 2021 respectively, only bettered among the Middle East's largest markets by Saudi Arabia and Qatar.
Project Café Middle East 2023 shows Egypt's branded coffee shop market grew 9.7% over the last 12 months to reach 579 outlets, making it the fifth largest in the Middle East.
The branded coffee shop market is led by Cilantro Café which added 10 net new outlets last year to reach 82. Formed in 2000, the Egyptian chain holds a 14% total market share.
The overall market increased by 51 net stores over the period, led by double-digit outlet growth for Starbucks and Dunkin', which focused expansion on Cairo's greater metropolitan area and its 20.5 million inhabitants.
However, business optimism among Egypt's non-oil companies is at its lowest in more than a decade, with just 4% of firms holding a positive outlook for the next 12 months, according to S&P Global.
In September 2022 the Coffee Division at Cairo's Chamber of Commerce warned Egypt only had enough coffee supply for three-anda-half months due to reduced output from Brazil and Vietnam, a situation likely to further frustrate the growth prospects of coffee chains in the country and lead to price rises.
This dynamic could prove problematic for operators in Egypt's highly value-focused coffee shop market. Some operators, such as Dunkin', continue to offer many coffee beverages for under $1, but consumer price sensitivity means opportunities for specialty coffee and boutique operators is likely to remain limited.
However, events such as Coffestival, which showcases local specialty coffee brands, cafés and distributors to consumers, indicate an emerging market for specialty coffee in Egypt.
The Egyptian branded coffee shop market is forecast to reach 831 outlets by 2027, led by coffee-focused chains.
TOURISM SET TO BOOST BOUTIQUE CAFÉS
The 2022 FIFA World Cup, taking place in Qatar from 20 November to 18 December 2022, has contributed to a wave of investment in Qatar's hospitality and tourism industries.
The event is expected to attract over 1.5 million tourists and is likely to lead to a surge in demand for hospitality operators in the years ahead.
Total investment in tourism is forecast to grow 7.8% annually to reach QR 14.5bn ($4bn) per year by 2028, according to industry trade show Hospitality Qatar. The organisation forecasts tourism spending will reach QR 40bn ($11bn) in 2023 following the World Cup.
Like the UAE to the east and Saudi Arabia to the west, the demand for premium coffee shops across Qatar continues to provide opportunities for international operators.
The total Qatari branded coffee shop market is estimated at 400 outlets, having increased by 51 net new outlets over the last year at a growth rate of 15%.
The market is led by international brands, with Starbucks and McCafé each operating 49 stores, ahead of US chain The Coffee Bean & Tea Leaf's 29 outlets.
Although collectively holding a smaller market share, boutique coffee groups have also found success in Qatar with operators indicating consumers are willing to spend more for premium coffee.
UK-based EL&N launched its first international outlet in Doha in April 2021, Japan's % Arabica currently operates two sites in the Qatari capital and Paris-based boutique café group Café Kitsuné also opened in the city in February 2022.
Meanwhile, independent specialty coffee shop NOMAD Coffee and Instagrammable Cue Café, both domestic Qatari brands, exemplify the appetite for boutique experiences.
They follow in the footsteps of Flat White Specialty Coffee, dubbed Qatar's first 'hipster-style café', which operates six sites in Doha.
World Coffee Portal forecasts the total Qatari branded coffee shop market to exceed 540 outlets by 2027, led by food-focused brands.
Posted in :