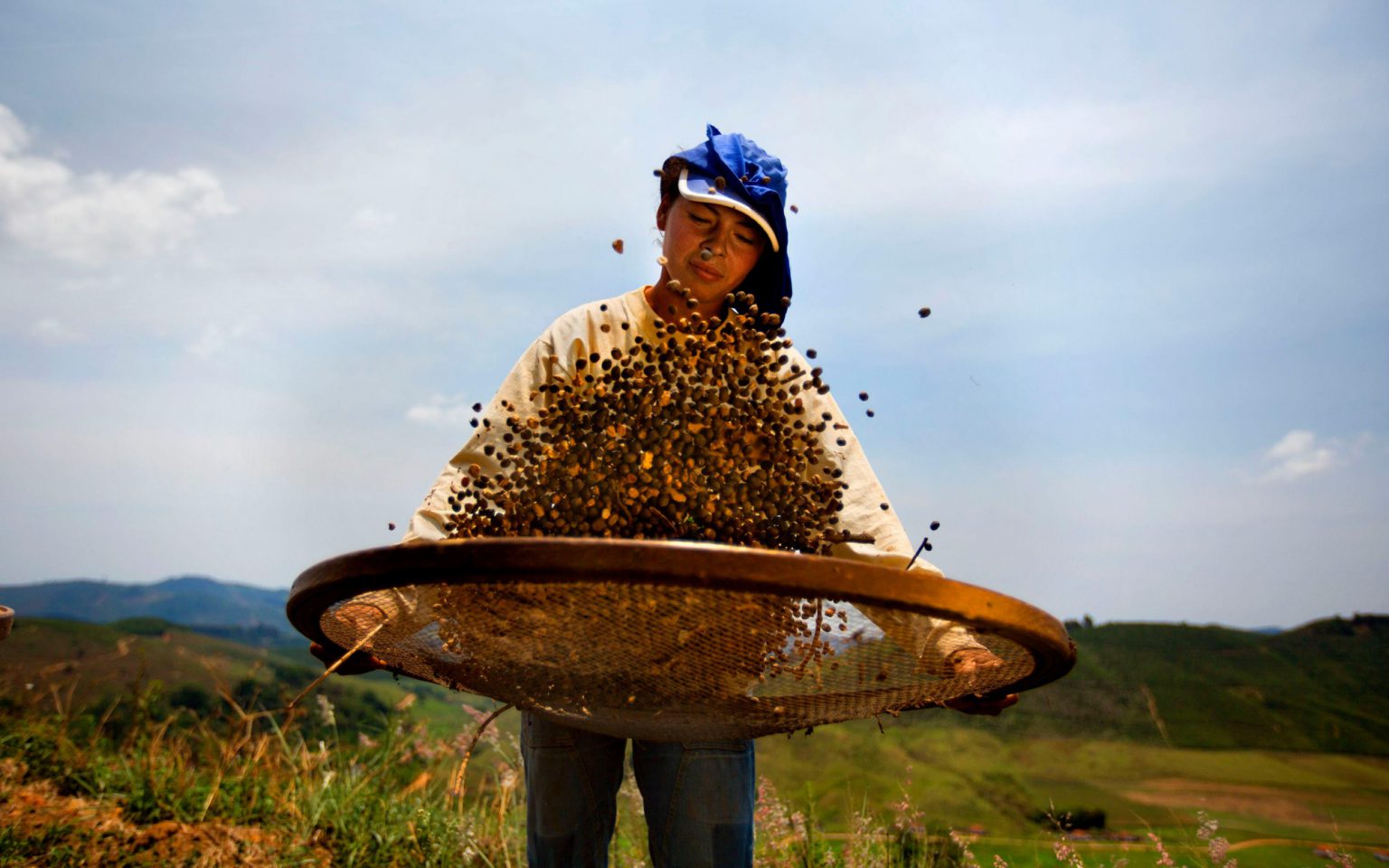 Do specialty coffee consumers actually want to be more connected to farmers?
It's fair to say that many specialty coffee brands base their marketing strategies around the idea that coffee consumers want to be more connected to farmers. These branding techniques largely revolve around disseminating more information about where coffee comes from, including the farmers who grow it.
The majority of specialty coffee professionals want to know as much information about origin as possible. This includes processing method, variety, altitude, and terroir. And while many coffee businesses believe that consumers also want to know the same information, is this really an accurate assumption?
To learn more, I spoke to Kosta Kallivrousis of Algrano, Marianella Baez Jost of Café con Amor, and Pedro Miguel Echavarría of Pergamino Coffee. Read on to learn their insights on whether consumers want to be more connected to origin.
THE ROLE OF FARMERS IN SPECIALTY COFFEE MARKETING
If you walk into almost any specialty coffee shop in any country around the world, you're likely to see some kind of recognition of or homage to coffee farmers. This can range from photos of pickers on farms on the walls to detailed information about producers and co-operatives on coffee packaging.
In light of this, it certainly rings true that specialty coffee shops and roasters want to make sure that their products are connected to producers in some way. But why is this?
Forging connection to origin: a specialty "special"
One of the main selling points of specialty coffee is that it is more sustainable, traceable, and transparent than commodity-grade coffee. Therefore, it's essential that roasters and coffee shops are able to bridge the gap between producers and consumers in order to communicate these attributes more effectively.
Kosta Kallivrousis is the Sales Manager at Algrano in the US. He tells me when specialty coffee brands seek to set themselves apart from competitors, marketing plays an instrumental role.
"A lot of specialty coffee branding and marketing is about showcasing what makes you distinctive," he says. "It's an industry that was born from marketing, rather than consumer demand."
Marianella is the co-founder of Farmers Project Specialty Coffee and a producer at Café con Amor in Costa Rica. She agrees, saying that specialty coffee brands tell the stories of producers as a way of differentiating themselves from commodity-grade coffee companies.
"It demonstrates that you have a direct relationship with suppliers, which means as a brand you have more knowledge and your coffee is more traceable," she tells me. "This helps to elevate the quality perception of your coffee, and shows that you're going the extra mile [when sourcing]."
Demonstrating sustainable practices effectively
Displaying photos of coffee farms in shops or on websites, as well as providing information about a coffee's origin, allows roasters and other coffee businesses to indicate that they have good relationships with their producers.
Pedro is the General Manager at Pergamino Coffee in Colombia. He explains that most specialty coffee brands want to demonstrate that they source and purchase their products fairly and sustainably.
"Translating the complexities associated with this into a simple marketing tactic is incredibly difficult – even for the most knowledgeable and educated consumers," he says.
In recent years, a growing number of specialty coffee consumers do want to be reassured that the brands they buy from are complying with good environmental and ethical practices. At the same time, however, it's fair to assume that some of these consumers aren't familiar with what these practices really entail so communicating them effectively can be a challenge.
Romanticism and fetishisation
There's no doubt that providing consumers with more information about origin is a valuable way for farmers to receive worthy credit for their hard work. However, it can quickly turn into "romanticism" if not carried out effectively. This leads some consumers to have idealised views of coffee farmers. Ultimately, a coffee farm is a business, and consumers should view them that way, too.
"Marketing can present a very blurry picture of the reality which producers face," Marianella explains. "It's difficult for consumers to discern between what is real and what is smoke and mirrors."
She tells me that she once saw pictures of her farm on a brand's website. However, she had never worked with them, and wasn't even aware of them. Marianella explains that when she emailed them, they stated that they didn't always know where their photos came from.
"This means some companies can make false claims by telling a story, but they have never even visited that country," she adds.
Moreover, the use of certain images can perpetuate the idea of the "impoverished" or "exotic" coffee farmer. While some smallholders across the Bean Belt certainly live below the poverty line, this isn't the case for all producers. Pushing narratives like this, as well as the idea that Western consumers are "saviours", often creates widespread false perceptions about coffee producers –resulting in their fetishisation.
"The majority of people in the specialty coffee industry want to make a difference and do some good," Kosta says. "However, the ways of doing so can be complicated.
"Is there consent from farmers to use their images and stories?" he posits. "They need to actually add value to producers, so they should be compensated, or at the very least, they should create these marketing strategies in partnership with farmers."
WHAT DO SPECIALTY COFFEE CONSUMERS REALLY WANT?
In line with being more connected to origin, there are a number of purchasing factors which specialty coffee consumers tend to value the most.
First quality, then sustainability
The National Coffee Association's 2022 National Coffee Data Trends Specialty Coffee Report report states that:
Around 69% of specialty coffee consumers say they are more likely to buy coffee because it's fresh
An estimated 64% of respondents stated that paying farmers a fair price is important
Some 57% said proper treatment of farm workers influences their purchasing decisions
Kosta, meanwhile, tells me that he thinks consumers' interest in paying producers a higher price could be inherently linked to alleviating guilt regarding economic and social inequity between themselves and producers.
"Maybe buying some coffee to address that, even in a small way, helps to absolve some of that guilt," he says.
Building trust
Pedro believes that rather than explaining complex issues, such as the volatility of the C price, consumers want reassurance that the brands they buy from have ethical business practices.
Ultimately, this widens the gap between consumers and producers, rather than closing it. Consumers aren't able to know the full extent of challenges which producers face in origin countries. And given the geographical distance between the two – and potential wide economic disparity – this is understandable.
"I don't think that coffee consumers want to be more connected to farmers, per say," Marianella says. "However, they do want to be more knowledgeable about the product: where it comes from, how it's produced, and whether it was grown and sourced ethically."
She tells me that Café con Amor runs a number of initiatives which directly benefit the local farming community. Marianella explains that she uses social media to show her customers how the programmes are impacting communities. She says this helps to build more trust with the consumer.
Smaller roasters with shorter supply chains tend to be able to do this more effectively than larger brands. Generally speaking, this is because they are in direct contact with producers. In turn, this can create more of a connection with consumers.
Traceability
In recent years, it's become increasingly apparent that more and more consumers want to know where their coffee comes from.
"We need real traceability," Marianella says. "Customers don't need certifications and seals that tell them their coffee is sustainable. They want more concrete information that's practical, honest, and specific."
Pedro agrees saying: "There's a big percentage of our loyal customers who really care, and ask about origin, farmers, our sourcing strategy, and how we pay premiums for certain coffees.
"Other people, however, may not have this level of knowledge about coffee, nor the time or interest to dig deeper," he adds.
Pedro also points out that it's presumptuous to believe that every consumer will have an in-depth knowledge of the coffee industry and how it operates.
"If we're going to measure every consumer by that standard, then we should also do the same with ourselves," he says. "Do we also know everything about the coffees we source? It's hypocritical in a way."
HOW CAN SPECIALTY COFFEE BRANDS LEVERAGE CONSUMER BEHAVIOUR TO CREATE REAL IMPACT FOR FARMERS?
There seems to be somewhat of a disconnect between what coffee consumers really want and what the specialty coffee sector would like them to want.
I asked Kosta, Marianella, and Pedro how brands can create real impact at origin through their marketing strategies.
Commitment and accountability
"What the specialty coffee industry suffers from the most is the relentless search for innovation – the latest roast profile, variety, or processing technique, for instance," Kosta says. "But the thing that's missing is commitment.
"The reality is that the coffee industry steers the ship," he adds. "So we have a big responsibility to remain accountable and stay true to our social and environmental commitments."
Technology and traceability
"Technology helps to resolve a lack of traceability by connecting roasters to origin," Marianella explains. "For example, we can connect through mobile apps and connect from our farm with roasters all over the world.
"The possibilities of having face-to-face conversations, albeit online, add another layer of forging a direct relationship with origin," she adds.
Pedro advises roasters to build their sourcing models around how they want to integrate sustainability into their business model. They can then create marketing strategies around that – not the other way round.
He also urges consumers to make sure that the coffees they buy (particularly blends) are sourced ethically.
"For example, there's a lot more work that needs to be done in terms of transparency when it comes to blends than microlots," he says.
Forging more trust
"For any business, trust is one of the hardest things to achieve and one of the easiest things to lose," Pedro says. "You add real value when consumers trust the brand they're buying from.
"Every roaster has to look within and ask themselves if they feel good about their buying practices – and communicate that," he adds. "In an era of information, if there are any malpractices in your supply chain, this trust can be jeopardised."
On a similar note, Kosta explains that portraying an "imaginary" connection with origin can be a form of fetishising. In turn, it can be a betrayal of consumers' trust.
"Ultimately, if a marketing strategy ends up benefiting the company and not the communities it promotes, it becomes false advertising and is an abuse of customer trust," he says.
The issues are complex and difficult to break down. However, it remains unclear whether the specialty coffee industry's social and environmental goals are a response to consumer demand, or whether they emerged to influence it.
Either way, it's clear that the majority of specialty coffee drinkers do want to know where their coffee came from, who grew it, and if they are being treated fairly.
Moving forward, specialty coffee brands need to make sure that their marketing strategies remain honest, ethical, and fair. For consumers, demanding more traceability and transparency from brands is the best way to play a role.
Posted in :