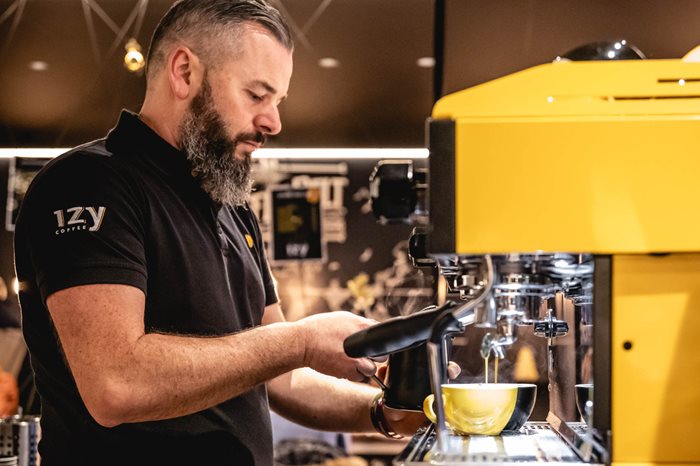 "Life is too short to drink bad coffee" — IzyCoffee CEO, Bart Buyse
Founded in 2018, IzyCoffee is a 13-strong coffee chain based Izegem, Belgium. CEO Bart Buyse speaks to World Coffee Portal about championing higher quality coffee, doing business sustainably and aspiring to become one of Europe's major coffee shop operators
Nestled between the economic powerhouses of France, Germany and the Netherlands, Belgium's branded coffee chain segment is relatively small, with its 475-plus stores making it the 15th across Europe by outlets. However, with the market growing 6.3% over the last 12 months there is clearly strong demand premium café experiences in Belgium and IzyCoffee is seeking to raise the bar for quality, choice and sustainable business.
As well as championing elevated coffee experiences at home, IzyCoffee CEO Bart Buyse is also seeking to steer the Izegem-based coffee chain into international markets later this year as part of plans to reach 100 outlets by 2025.
What prompted you to launch IzyCoffee?
Following a 20-year airline career and a two-year world trip with my family to more than 100 countries, I realised Belgium did not really have a national coffee chain despite Belgians being the eighth largest per capita coffee drinkers in the world.
Additionally, I realised that specialty coffee in Belgium could only be found in the bigger cities at local, mainly single-entity, coffee shops. This led me to take a professional SCA barista course, to create an incredibly strong business plan and to start selling specialty coffee in smaller Flemish cities, where people had never really heard of specialty coffee.
Nearly five years after starting as a coffee-truck in front of the station of a small rural West-Flemish town called Izegem, IzyCoffee is the largest Belgian coffee chain with 13 locations, predominantly at triple A-locations in most of Flanders' larger cities.
"We see big potential to internationalise, due to the favourable central location and relatively small size of Belgium"
How would you describe the current trading environment across your stores?
In Belgium, as in many neighbouring mainland Western-European nations, we're currently recovering from numerous crises encountered during the last three years – health, energy, food costs – to name but a few.
Although we always continued to grow during this period, our growth has accelerated during the last six-months, and this encourages us to raise the bar further.We see big potential to internationalise, due to the favourable central location and relatively small size of Belgium, which is surrounded by some of the biggest economies in Europe.
How is IzyCoffee navigating the challenges of high inflation?
The inspirational storytelling skills of all IzyCoffee SCA-educated baristas is helping us to convince Belgians that specialty coffee is becoming a precious commodity. Life is too short to drink bad coffee.
Belgian high streets are flooded with low-quality coffee, but specialty coffee is the wine of the 21st century. Offering high-quality specialty coffee in an extremely professional way to the masses is something completely new in Belgium and post-pandemic consumers are willing to invest in exquisite coffee experiences.
How is IzyCoffee implementing sustainability across its operations?
We have a thorough sustainability strategy supported by six pillars. Our main contribution comes from our specialty coffee blend which has 100% transparency from seed to cup and guarantees the biggest margin goes to the first link in the coffee value chain, producers.
Since Earth Day in April 2022, we have completely shifted to plant-based milk – we could potentially be the largest European coffee chain doing so. All our pastry products are also fully plant-based.
We've stopped using china cups, glasses and other tableware since we don't believe that washing one million cups in a dishwasher with detergent is very future-oriented. We offer a €1 discount each time customers use their IzyCoffee re-usable tumbler.
We are working on a big project to make our next generation re-usable tumbler completely circular, up-cycled from our own coffee grounds. This project could save approximately 50 tons of coffee grounds from waste disposal every year and we're also striving to eliminate food waste food waste.
What are your short-term growth plans?
In 2023 IzyCoffee will grow to 25 outlets, including flagship sites in Flanders' centre city locations as well as in Brussels and the bigger Walloon cities.
We will also open our first international IzyCoffee store in winter 2023, although we are keeping the location secret for now.
From 2024 we will predominantly concentrate on further growing the IzyCoffee brand abroad. The Netherlands, Germany and France are our main countries of interest.
By the end of 2025, we aim to become a European specialty coffee powerhouse with more than 100 outlets spread across five countries.
Posted in :