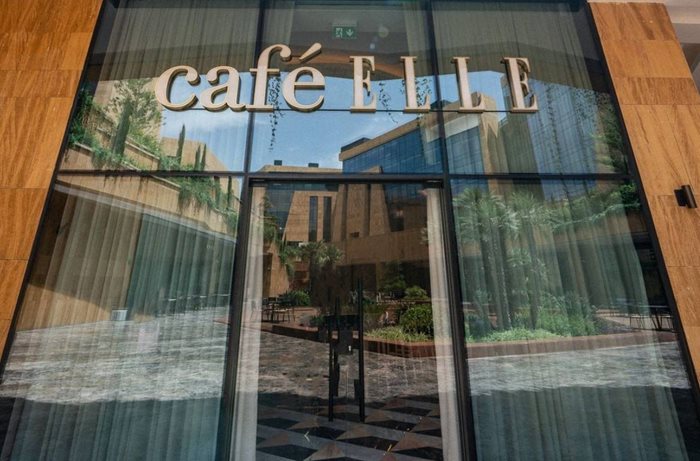 ELLE Café Expands its Horizons with Debut Boutique Store in Saudi Arabia
ELLE Café, a captivating new hospitality venture launched in collaboration between ELLE magazine and renowned design consultancy Whitney Robinson International, has marked its grand entrance into Saudi Arabia with the unveiling of its inaugural boutique store.
Nestled within the fashionable Via Riyadh shopping center, Café ELLE materializes as the maiden endeavor arising from the partnership between the esteemed French fashion publication and Whitney Robinson, former Editor-in-Chief of Elle Décor. Robinson, who holds the exclusive license for the boutique café brand through his design consultancy, previously collaborated with prominent US fashion house Ralph Lauren to introduce Ralph's Coffee to the Middle East. According to Robinson, there has been an overwhelming surge of interest in Western brands within Saudi Arabia in recent times.
The enticing menu at Café ELLE presents a delightful array of espresso-based beverages, alongside an exclusive "specialty" range that showcases indulgent matcha, beetroot, and rose-infused lattes and cappuccinos. Additionally, patrons can relish a diverse selection of breakfast delights, freshly baked pastries, and innovative cocktail options. Notably, Via Riyadh is also home to renowned establishments such as LA-based café chain Joan's on Third, French café and restaurant brand Les Deux Magots, and UK-based specialty coffee chain Over Under.
Reflecting on his ambitions while serving as Editor-in-Chief of ELLE Décor, Robinson expressed his long-standing dream of creating cafés and hotels under the esteemed ELLE Magazine brand. These would be spaces that empower interior designers, fashion designers, chefs, and artists, embodying the same spirit of discovery that has defined ELLE Magazine since its inception in 1945. Over the past three years, Robinson has been able to transform this dream into reality. He takes immense pride in introducing Café ELLE as the pioneer of a novel universe of fashion-inspired restaurants and co-working spaces that embrace a local approach, drawing inspiration for recipes, ingredients, uniforms, and decor from the cities they reside in while embracing a global mindset that taps into the editorial essence of ELLE's expansive network spanning 80 editions in 80 countries.
Whitney Robinson International and ELLE Magazine are poised for further expansion, with plans to venture into premium café and hotel projects across the Middle East and the Americas. The second Café ELLE is set to grace the vibrant cityscape of Doha, Qatar, although no specific timeline has been divulged thus far.
The branded coffee shop market in Saudi Arabia has witnessed remarkable growth, bolstered by one of the world's most rapidly developing economies. Research conducted by the World Coffee Portal reveals that the country's market for branded coffee shops expanded by an impressive 18.5% last year, exceeding a staggering count of 3,550 outlets. This makes it the largest market of its kind within the Middle East.
The escalating demand for boutique coffee shops within the region is evident, as 63% of industry leaders surveyed in Saudi Arabia and the UAE regarded the growth of specialty coffee as the foremost consumer trend influencing the coffee shop market in the MENA region. Additionally, 24% of those surveyed recognized coffee connoisseurship as a key consumer trend.
Beyond Saudi Arabia, ELLE also operates four coffee shops under a separate ELLE Café brand, captivating the palates of discerning customers in Thailand, Japan, and Taiwan.
Posted in :