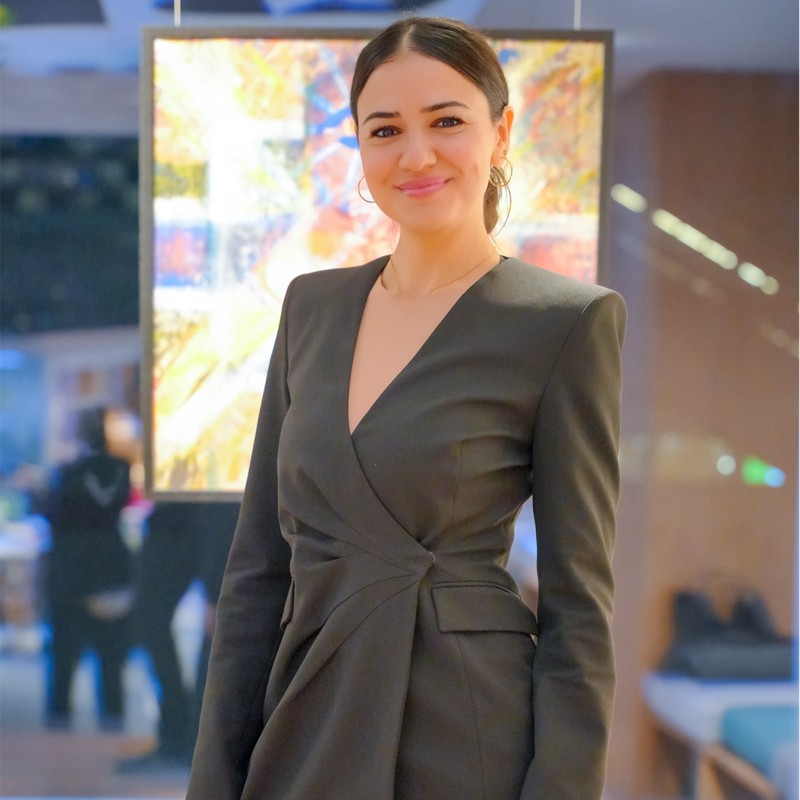 Sarah Agnache: A Passionate Advocate for Women in Coffee
Sarah Agnache, Operations Manager at Mokha 1450, shares her insights on the indispensable role of women in the coffee industry and her vision for the brand.
Who is Sarah Agnache?
Sarah Agnache is dedicated to living well, refusing the silence, taking risks, and being ambitious in the hopes of having a significant impact on life through positive engagements with the people around me. However, it is quite tricky to describe who we are, once we realize that we are constantly changing and evolving, as every day there is something new or different and the inner journey is an infinite path.
What are you passionate about?
I grew up with the treasure of sports culture and I am always in awe of how limitless the human body can be. I am passionate about teaching gymnastics for children, swimming, cross fit, boxing and horse riding. I am also passionate about being in contact with nature; being in the middle of nowhere just to be inspired by the beauty and miracles of this world. The melodic sounds of a piano can lift me out of the ordinary and infuse me with passion. Achieving something with passion makes sense to me.
Why did you make Dubai your home?
Dubai is a city filled with opportunities, and I found the options here to be quite different and more unique in comparison to where I am from in France. I have always been attracted to the UAE in general, its investments in its people, as well as the incredible vision of the country on the global stage. Most importantly, I found peace in Dubai, and feeling safe and content in one's person every day is absolutely wonderful and cannot be overstated.
If you were a speciality coffee brewing method, what would it be?
I would be a Syphon because of the complexity of its design. Also, the Syphon reminds me of a grand science experiment, but the results of each experiment is that of creating a unique sensory experience and some magical flavours.
In your personal opinion, what makes a good cup of coffee?
For me it starts with the aroma, as the aroma often has an immense impact on my mood and also foretells of the incredible flavours you will experience in the cup. The attention to detail is also quite critical, as the perfect measurement down to the exact gram, as well as following the recipe to precision for each single origin and roast profile will produce exemplary flavours and a perfect cup.
What makes Mokha 1450 unique as a brand?
Mokha 1450 is quite innovative in its overall approach to coffee, and has very rare coffees that can be found nowhere else on earth, due to its long-standing collaborations with some of the world's best women farmers and women cooperatives. The brand's attention to detail produces a one-of-a-kind coffee experience that is exemplified through the mastery of some of the world's best baristas, along with the unique presentation and experiential nature of the entire coffee experience from the moment a client walks through the door- these are some of the elements that makes the brand quite unique.
If Mokha 1450 was a car, what car would it be?
This is a difficult question, because there is no specific brand that comes to mind. However, it would be a combination of a luxury car with a sports car, having the best possible engine and parts that are all sourced from several of the best manufacturers to produce a car that is innovative, luxurious, and a unique car. A car that proves to be an exhilarating and exceptional experience every time it is driven. Whenever you take the steering wheel of this car, it takes you away to somewhere new and provides an escape from the boredom of everyday life.
What flavour notes do you prefer in your brewed coffee?
I like unique flavors such as honey, Almond, ginger, Jasmin, paired with more traditional flavor notes such as dark chocolate.
There are a number of strong entrepreneurial women behind Mokha 1450. Tell us more about how women in the coffee industry can pave the way forward. I am very glad and proud of it. I think women contribute significantly to the global coffee sector; however, their voice needs to be more elevated as their role is indispensable. We should continue to collaborate with groups of women and support their training, finances, and community for higher-quality coffee production. Also, moving forward I think we should understand. the challenges that women face in coffee production, in terms of decisions and accessibility and there should more equality and equity between men and women in the coffee industry.
What is your vision for Mokha 1450 as a speciality coffee brand in the UAE?
We aim to promote the excellence of quality coffee and become one of the most luxurious speciality coffee brands in the UAE. We intend to uphold the creativity and inspiration behind Mokha 1450 and embrace a more artistic expression which brings innovation to speciality coffee in this region.
Posted in :